Atlanta's Most Luxurious Dining Experiences
Whether you're celebrating a special occasion or you're just in the mood to treat yourself, Atlanta has a restaurant for you that just has that something extra special. We've partnered with Atlanta Eats to bring you a list of spots with phenomenal service, glittering interior design, and carefully crafted menus that will delight with every bite. Start your evening with a luxurious ride in your Lexus from Butler Lexus of South Atlanta and enjoy a lavish meal at Atlanta's very best restaurants!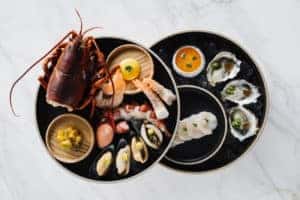 Bacchanalia – Seafood
Bacchanalia




1460 Ellsworth Industrial Blvd NW




Suite 1, Atlanta, GA 30318
Bacchanalia is one of those renowned places that tops "best of" Atlanta lists time and time again. Chefs/Owners Anne Quatrano and Clifford Harrison source only the freshest, most organic ingredients–many of them from their very own Cartersville farm, Summerland. And they've been rocking the tasting menu game in Atlanta for much longer than other places. Their menu changes but typically offers simple New American cuisine executed to perfection.
The Betty – Bar | Photo: Facebook/thebettyrestaurant
The Betty




374 East Paces Ferry Rd NE




Atlanta, GA 30305
The Betty is one of the newest luxe dining experiences to hit ATL, opening up in the ground floor of the boutique Kimpton Sylvan Hotel. The interiors are a more sumptuous version of mid-century modern, with marble and velvet touches throughout. Chef Brandon Chavannes, formerly of King + Duke and St. Cecilia, is the man behind the menu. He has prepared a modern take on nostalgic items that call back to restaurants of bygone eras, with items like wedge salads, sidecars, filet mignon and half lobsters taking center stage. End your evening with a nightcap at the rooftop bar, St. Julep. The view is spectacular.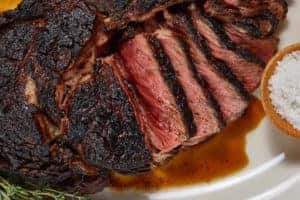 Bones – Ribeye | Photo: bonesrestaurant.com
Bones




3130 Piedmont Rd NE




Atlanta, GA 30305
Ask anyone in Atlanta where's the best place to get a steak, and at least half will say Bones. Bones delivers on everything you expect from a luxurious steakhouse experience: white tablecloths, leather touches, fabulous service, and of course, mind blowingly good steaks. The truffle potatoes are a bite of heaven, and the French onion soup will satisfy all.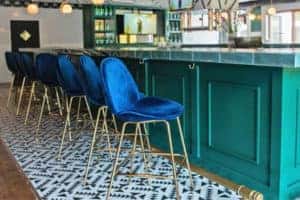 Breakfast at Barney's – Interior | Photo: breakfastatbarneys.com
Breakfast at Barney's




349 Decatur St SE Unit A1




Atlanta, GA 30312
You haven't had brunch like this before. "Barney" Lee Berry Jr & Dr. Rashad Sanford are the duo behind this downtown hotspot. They've added luxe touches throughout, from the emerald green velvet seats to the glitzy glam gold lighting to even the red carpet-esque queue outside. The 14 karat gold pancakes are unreal, massive and ultra fluffy and the soul food egg rolls have everything you love all in one bite. And if you REALLY want to splurge, they have a $1,000 "Mansa Musa" tower that's a combo of their 14k gold pancakes, fried lobster and grits, chicken and waffles, and two bottles of champagne. It should be noted that they don't take reservations and the wait times can be very long, so it's best to go right at opening or on a weekday.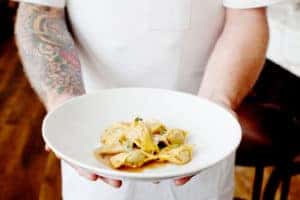 St Cecilia – Braised Beef Cheek Agnolotti | Photo: Facebook/StCeciliaATL
3455 Peachtree Rd NE
Atlanta, GA 30326
St. Cecilia truly delivers a luxurious Italian experience. You'll delight in the stunning, light-filled dining room. The service is always great, the crudo is fresh, and the complimentary focaccia that comes with your meal is alone reason enough to go. Come for a business lunch, date night, or girl's night out. It's a delight for every occasion.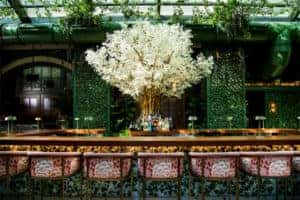 The Garden Room – Bar | Photo: Facebook/TheGardenRoomAtlanta
The Garden Room




88 West Paces Ferry Rd NW




Atlanta, GA 30305
What's more luxe than enjoying a cocktail in an atrium packed to the brim with gorgeous florals and greenery? There is probably not an Atlanta dining experience more visually stunning than the Garden Room. Reservations are usually made months out, but the bar is first come, first serve.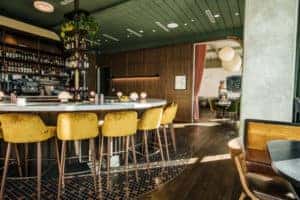 Lyla Lila – Bar | Photo: lylalilaatl.com
Lyla Lila




693 Peachtree St NE UNIT 118




Atlanta, GA 30308
Restaurant veterans Billy Streck and Chef Craig Richards have brought a Southern European dining experience to midtown. The interiors are quite pretty, with a chic palette of greens and blush pink that make your visit feel special but not fussy. Chef Craig Richards has helmed the kitchen at some of Atlanta's most renowned restaurants, including St. Cecilia, Marcel, JCT Kitchen, and King & Duke. Located in Midtown, a meal here would be perfect right before a show at the Fox theatre. The ​​cacio e pepe is some of the best–if not the best–in town, using four types of peppercorn to great success. And the signature duck lasagna is so savory and rich in all the best ways!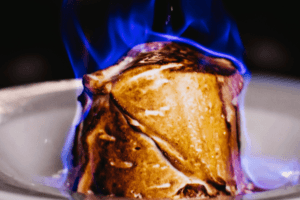 Marcel – Baked Alaska | Photo: Atlanta Eats
Marcel




1170 Howell Mill Rd




Atlanta, GA 30318
You might have to open your wallet a little bit wider to have a meal at Marcel, but after the impeccable service, always delightful ambiance, and top notch cuisine, you won't be complaining. The baked Alaska is as stunning to your eyes as it is to your taste buds, and the beef wellington is also a feast to remember. Perfect for a special occasion, Marcel is named an Atlanta premiere steakhouse time and time again for good reason.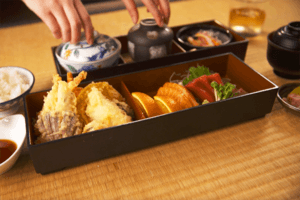 Nakato – Bento Box | Photo: Atlanta Eats
1776 Cheshire Bridge Rd NE
Atlanta, GA 30324
Nakato has been a stalwart in Atlanta for authentic and quality Japanese food for decades–nearly 5 decades, in fact! Family-owned and operated, much of their staff have been with them for years and years and it shows in the phenomenal service you'll receive every time. Sidle up to the sushi bar for a more laid back affair, nestle in around the hibachi tables for dinner and a show, or for a more special experience, book one of their private chef's tatami rooms for a chef's tasting menu/omakase.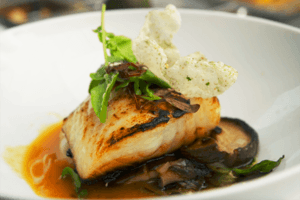 The Select – Miso Sea Bass | Photo: Atlanta Eats
The Select




6405 Blue Stone Rd Suite 200




Sandy Springs, GA 30328
Even the most diehard Atlantans who never venture out of the perimeter will find this Sandy Springs spot worth the drive. The interiors are expansive and stunning, with sweeping high ceilings and a distinctly European feel. They've added beautiful botanicals to the bar and greenery to their sunroom to make your visit even more special. Enjoy a fabulous cocktail and pause from the hustle and bustle of everyday life for a moment or two at The Select. They're also open for brunch, and the patio is fabulous!