Best Doughnuts in Atlanta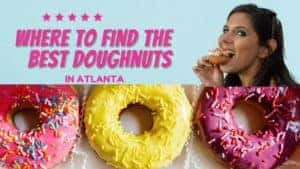 Doughnuts or Donuts – no matter how you spell them, they are quite popular in Atlanta. We are lucky that in Atlanta, there are so many fabulous doughnut spots. Here, we have compiled a list of the best doughnut / donut shops in Atlanta for your sweet satisfaction. What do you think about this list of places to find doughnuts? Did we leave any out?
Revolution Doughnuts
Our top pick for the best doughnuts in Atlanta is Revolution Doughnuts. What's special about this spot? It is more than just a place for doughnuts. It has an inviting atmosphere that makes you want to hang out. It doesn't hurt that their coffee is top notch too. So, if you need to get out of the house and want a place to sit and do some work, Revolution Doughnuts is a smart choice. Our favorite doughnut is their peach one. They put real peaches in this one and it is served like a sandwich!
Sublime Doughnuts
Set in an unassuming spot in a strip mall, you could easily pass by this spot and not know how delicious the doughnuts here are. If there was ever a passion that went into pastries, it is these. There's a terrific backstory too. Owner, Kamal Grant served in the Navy traveling all over the word and honing his baking skills as the cook for the crew on the ship. After he finished his service, he opened Sublime in Midtown Atlanta with his world class experience. Our favorites are the A-Town or Strawberries and Cream.
Hero Doughnuts
Atlanta finally got a Hero Doughnuts location, and we are pleased as punch to have this spot! Think of this as a place to have fancy donuts like Pistachio or Blueberry Crumble. The name is a bit misleading though – the restaurant has lots of outstanding sandwiches too and even has brunch cocktails on the weekends. Protip: There's a lovely outdoor patio too.
Doughnut Dollies
Another fancy spot for doughnuts in Atlanta is Doughnut Dollies. We really like the Almond Rose. We must admit, these doughnuts are reserved for a treat as they are a bit pricey, but everyone should treat themselves from time to time, right?
DaVinci Donuts
Unlike the other spots on this list, DaVinci's Donuts are actually quite small. We call them the "no guilt" donuts because these mini-doughnuts only have 60 calories (before toppings). They are more cake-like compared to the others on this list as well. If you are watching your calories but just need a sweet fix, this is it. Another thing that's cool about this Atlanta donut spot is that you can customize your selection by choosing your own toppings. Think items like chocolate sauce and coconut shavings.
Yum! Which donut spot will you visit first in Atlanta?