Top 10 Takeout Spots in Atlanta -Week 1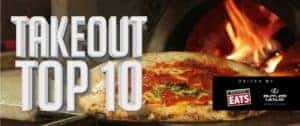 Article Written In Partnership with Atlanta Eats. Last updated April 3, 2020. Restaurant hours and services are changing rapidly; please refer to restaurant websites for more updated information as time progresses. 
The talented chefs, the independently-owned local spots, and the vibrant dining scene in Atlanta are a huge part of what makes living here so great! If you and your family are able, we encourage you to take a break from all the cooking you're doing at home to order some curbside pickup from one of these amazing Atlanta restaurants and support local. Here's a list of the top 10 tastiest takeout options happening right now in Atlanta. This list is brought to you by your locally-owned Lexus dealership, Butler Lexus of South Atlanta!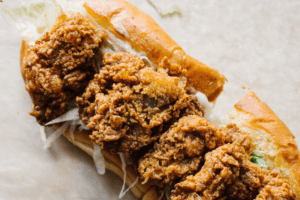 Bon Ton – Fried Oysters | Photo Credit: Facebook/bontonbh
You can still have some bon temps at home with flavorful Cajun eats from Bon Ton in Midtown. As of today, there's curbside pickup and delivery available on UberEats and DoorDash. Enjoy a crawfish or catfish house po boy on the tastiest of breads, dive into some boiled jumbo shrimp, or enjoy a gumbo dinner for two with seafood and andouille sausage over jasmine rice. If you're truly craving one of their cocktails, you can also enjoy their Roulah Mule-ah Cocktail Mix or House Rx Old Fashioned Cocktail Mix. Instructions included, but essentially you just add your liquor of choice at home!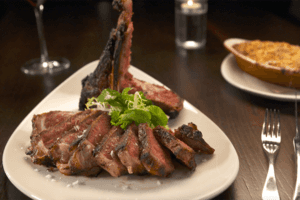 Arnette's Chop Shop – Steak | Photo: Atlantaeats.com
Brookhaven mainstay Arnette's Chop Shop has high-quality steaks available daily, to go! Choose from a 12 oz NY Strip, a 16 oz Cowgirl Ribeye, and 6 oz Filet to satisfy even the heartiest of appetites. Order up some roasted brussel sprouts and their marble cheesecake for the perfect meal! Bonus: for every gift card purchase of $100+ today, you'll get an extra 20%! This gift card is redeemable at either Arnette's Chop Shop, HAVEN, Vero Pizzeria, or Valenza!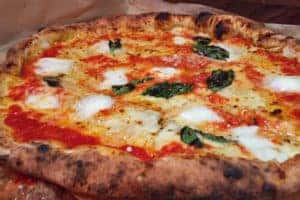 Antico – Margherita Pizza | Photo: Atlantaeats.com
Antico's famous, Neapolitan-style pizzas are arguably some of the best in town! These pizzas come out piping hot from their custom built, 10,000 lb. ovens, made from ancient Santa Maria brick and volcanic rock from Mt. Vesuvius. Authentic, we know! While we can't wait until better days spent dining out, we take pleasure in the fact that there never have been SO many ways to eat Antico. Their pizzas are available for takeout, Antico is on many delivery apps, AND Antico is even shipping heat-'em-up yourself at home, "Antico Casa" packages all around the country! For more information, visit Antico's online store.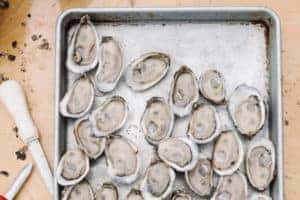 Kimball House – Fresh Oysters | Photo: Facebook/kimballhousebar
Flank steak, crispy duck confit, and fried oyster sandwiches are just some of the to-go offerings from Atlanta staple Kimball House. Safety is paramount, so we'll have to wait for better days before we can dine on their patio or settle into their chic dining room. But at this time, you can shuck a dozen of their fresh oysters in the safety of your own house! 
Buttermilk Kitchen – Blueberry Pancakes | GIF: Atlantaeats.com
Everything is local and fresh at Buttermilk Kitchen from Chef Suzanne, and the whole world knows it! Lines are generally out the door every weekend at this North Buckhead spot. Almost everything is made from scratch, and you can absolutely taste it. So pull up to Buttermilk for a curbside pickup, or order their food via DoorDash or UberEats, to enjoy a full stack of their buttermilk pancakes or chicken biscuits for a fantastic brunch at home.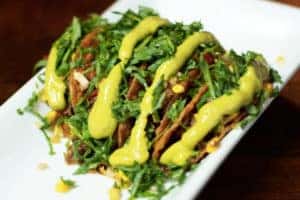 The Iberian Pig – Pork Cheek Tacos | Photo: Atlantaeats.com
Contactless delivery/pickup and amazing, delicious Spanish food are both currently on the menu 7 days a week at the Iberian Pig, a favorite of ours in Buckhead and Decatur for Spanish style tapas. Choose from their paella parties or their pork cheek taco meal kits for a family-style dinner. Or, just pick and choose your favorites from the menu, from Iberian mac and cheese, to truffle poached egg and pork cheek, to hanger steak. It's all a flavor explosion!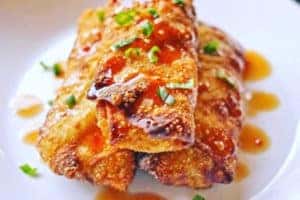 Lazy Betty – Pastrami Eggrolls | Photo: Instagram/lazybettyatl
This James Beard nominated, award-winning institution is reopening on Tuesday, April 14th for pickup or delivery within a 10-mile radius. Instead of their tasting menus, Lazy Betty is serving family-style dinners with mouthwatering dishes like bacon crusted pork loin, stuffed and roasted chicken, and roasted cauliflower with gremolata. They also have a selection of premium wines for pick-up to really make your meal special, like BollingerBrut Rose or Shafer Cabernet Sauvignon. Click here to place your order!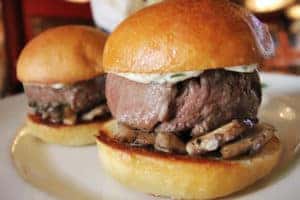 The Capital Grille – Sliders | Photo: Facebook/thecapitalgrille
For a divine steakhouse meal, special occasion celebration, or just a treat yourself kind of night, the Capital Grille in Buckhead is always a go-to. However, they're also doing curbside pickup and delivery if you want to take the night off from cooking. You can order up a bone-in prime ribeye, silky mashed potatoes, and a specially priced bottle of wine to go. Or if you prefer to cook at home, enjoy a hand-carved steak, cut fresh daily by their in-house butcher.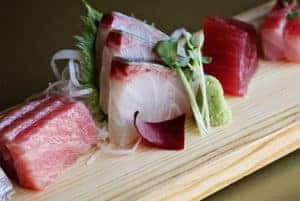 Umi – Sashimi | Photo: Instagram/umisushiatl
Stylish and sophisticated Umi in Buckhead has been a celebrity hot spot for years, with the likes of Drake and Liam Hemsworth dining in! Currently, some of their menu's greatest hits are available for curbside pick-up or delivery within 4 miles! Enjoy their black cod misoyaki, a lobster tempura roll, or their otoro caviar for takeout. You absolutely can make the best of being at home with a fantastic meal from Umi.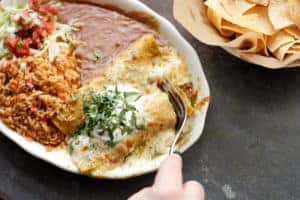 Superica – Enchiladas | Photo: Facebook/Superica
Atlanta favorite Chef Ford Fry has just reopened some of his most delicious spots in Atlanta, including our favorite for Tex Mex, Superica! Their chicken verde enchiladas have just the right amount of heat, their Parilla Deluxe fajitas have just the right amount of sizzle, AND they're doing family-sized portions that are extra value for your money.