Top 10 Takeout Spots in Atlanta – Week 2

Article Written In Partnership with Atlanta Eats. Last updated April 24, 2020. Restaurant hours and services are changing rapidly; please refer to restaurant websites for more updated information as time progresses.
Home is where we want to be. We miss patio season and dinners with our family and friends at Atlanta's amazing restaurants, but there's no need to dine out when there are such fabulous places offering delivery and curbside pickup. If you can support local at this time, we encourage you to hop in your car for a curbside pickup and do so at one of these spots below! This list is brought to you by your locally-owned Lexus dealership, Butler Lexus of South Atlanta!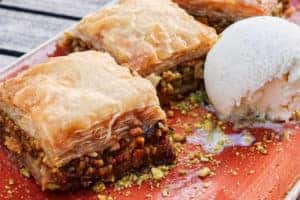 Rumi's – Bakalava | Photo Credit: Facebook/rumiskitchenatlanta
If you haven't tried Persian food yet, let us give you the low-down on the amazing cuisine from this part of the world and the savory dishes that you MUST try at Rumi's. Persian cuisine has influences from Turkey, Greece, and Russia, but they make each dish all their own. You can expect delicious grilled meats, fragrant saffron, and fruits such as dates and pomegranates. Our favorite fare at Rumi's include their stewed eggplant dishes such as the Mirza Ghasem and Kashk Badenjoon, but their lamb kabob and lamb shank are also ace. Prefer to cook at home? You can order their fresh meats, marinades, cocktail kits, and flavorful sides from Rumi's Pantry!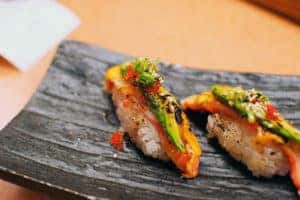 Sushi-Huku Japanese Restaurant – Nigiri | Photo Credit: Facebook/Sushi-Huku-Japanese-Restaurant-113788325319192
For excellent Japanese food, Sushi Huku on Powers Ferry Rd. has been a go-to spot for the Buckhead crowd and beyond. There are no words for how incredible the baked salmon roll is. It melts in your mouth and tastes like dessert on a plate–Yelp user Jennifer C. actually wrote, "We almost passed out it was so frickin good." Not convinced to try Sushi Huku just yet? Just take one bite of their Katsu Don, a rice dish with fried pork, egg, and onions and then get back to us. It may not be safe to travel to Japan at this time, but try their Ramune Japanese Soda as a refreshment with your meal and you can pretend you're in Tokyo in the safety of your home. They're available for delivery on GrubHub!
Houston's – Filet Mignon | Photo Credit: Facebook/houstonspeachtree
This classic Atlanta steakhouse has been a staple in the city for years, and now for the first time, they're offering delivery, takeout, and curbside pickup. You can enjoy their rotisserie chicken and kale salad, grilled artichokes, and house-smoked salmon as well as bottles of wine and beer. Media mogul Tyler Perry is a huge fan of this spot and recently gave a $21,000 tip to the Houston's employees at the Northside Parkway location that was divided amongst 42 employees!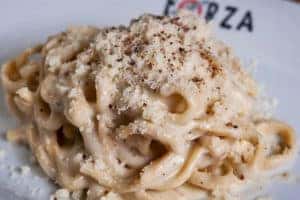 Forza Storico – Cacio e Pepe | Photo Credit: forzastorico.com
Forza Storico is the curbside pickup STEAL of the week. With 50% off all wine bottles and 20% off all dishes, it's honestly impastable to resist. Even better, Forza Storico has been teaming up with State Farm, Emory Healthcare, and the Atlanta Hawks to provide meals to frontline workers. We especially recommend their Cacio E Pepe and Polpo/grilled octopus dishes! Please be sure to tip generously if you are able to afford doing so at this time, to support this hometown spot!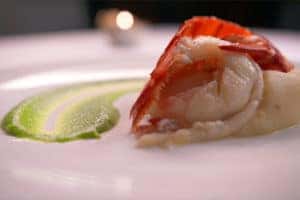 Aria – Lobster | Photo Credit: Atlanta Eats
We love fabulous Aria in Buckhead for every special occasion! We'll have to wait for better days to dine out and enjoy their gorgeous and luxe interiors that are truly a sight to behold. However, we can enjoy some real hits from their menu and family-style meals that are perfect for you to celebrate a special occasion at home. Or just order up their food for a fancy Tuesday evening, because why not? Their wines are now half-off, or you can pay $35 for the sommelier's "mystery" bottle! Tip generously if you can, to support their staff.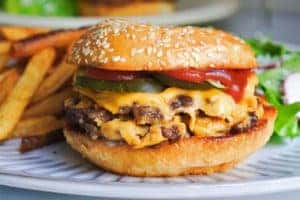 Bocado – Burger | Photo: Facebook/bocadoatlanta
There is no shortage of excellent burger spots in Atlanta, but hear us out. Bocado is right up there with the rest! You can order their individual Bocado Burger Stack OR a family burger meal for 4 OR order up their specialty blended burger grind by the pound if you prefer to cook at home. They also have growlers for sale from local favorites like Scofflaw Brewing and a TON of wood-fired Neapolitan pizzas. Available for pickup and for delivery!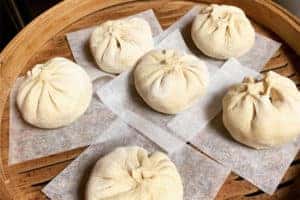 Ah-ma Taiwanese – Buns | Photo Credit: Facebook/ahmasat
This happening little spot right by Trader Joe's and Piedmont Park is offering a delectable menu of items to go! Chili oil wontons, twice fried chicken wings, and pork belly baos are all on the menu. Another menu favorite? Their Lu Rou Fan, with slow-cooked minced pork and pickled daikon. Add a bit of spice to your life and try something new during this time, while supporting local businesses. They're on UberEats!
Nina & Rafi – Pizza | GIF Credit: Atlanta Eats
We dream about the meatballs, the cheesy bread, and the meaty Tony Pepperoni from Nina & Rafi's! This hot spot on the Beltline is open for delivery within a three mile radius. While Nina & Rafi's has committed to staying closed for dine-in services for the interim, they are offering take and bake pasta casseroles as well as their craveworthy pizzas. Their pizzas freeze and reheat super well, too–if you and your family are able to stop yourself from finishing the whole pie in one go, that is.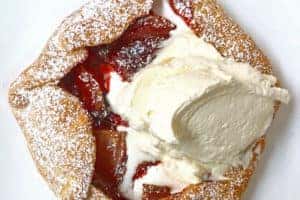 No. 246 – Crostada | Photo: Facebook/no246
Fresh pastas, wood-fired pizzas, plus a family-sized Italian crostada filled with seasonal berries and fruits–is it clear by now that we're fully onboard with comfort carbs during this difficult time? This Chef Ford Fry Italian spot has a delicious, bake it yourself, roasted eggplant and basil lasagna you'll love as well as a prosciutto-topped pizza called the Wise Guy Pizza that we always crave. Yum!
Gio's – Lemon Chicken | GIF Credit: Atlanta Eats
Gio's, located in Little Italy right by Antico and Georgia Tech, is a family-friendly West Midtown staple. The Sorrento Lemon chicken, the chicken parmigiana, and the perfectly cheesy pasta dishes are all out-of-this-world! Plus, they've even started to sell smoked wings and while supplies are super limited, we just KNOW they've gotta be incredible. Gio's has also converted into a little Italian corner store and they're selling specialty wines, truffle oil, and premium dry pasta as well. Available for takeout and delivery!