Top 10 Takeout Spots in Atlanta – Week 4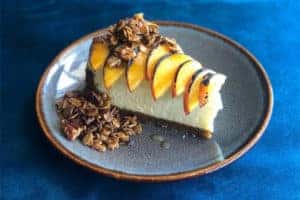 Banshee – Peaches and Pecan Cheesecake | Photo: Facebook/BansheeEAV
1. Banshee 
Chic late night dinner & drinks spot Banshee has added a bit of upscale dining flavor to the East Atlanta Village scene, and they are now offering a drive-thru food service of its delicious, seasonal, New American menu! Executive Chef Nolan Wynn was even named "Rising Star Chef of the Year" by the James Beard foundation, and also has experience at well-known restaurants like Mama's Boy in Athens, No. 246 in Decatur, and King + Duke in Buckhead. Banshee is currently takeout only so we'll have to wait for better days before dining out on their new patio, but we're looking forward to it and thankfully, their takeout service tastes just as good at home.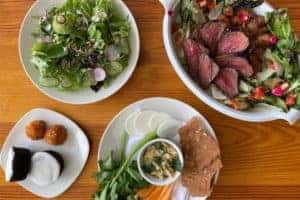 Miller Union – Sample Takeout Menu | Photo: Facebook/MillerUnion
2. Miller Union 
Farmhouse chic Miller Union is serving all your Southern-inspired favorites in a modern environment. James Beard award winning chef  Steven Satterfield is the brains behind this sophisticated Southern farm-to-table eatery. When dining in, you have to try their farm egg dish, baked in a celery cream and served with grilled bread–a must try, as it's a really unique and unexpected accomplishment. They also have a patio if you're looking to dine al fresco, or you can order a wonderful meal for takeout at this time.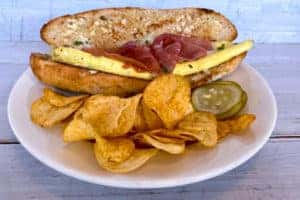 Star Provisions – French Omelette Baguette | Photo: Facebook/StarProvisions
3. Star Provisions
Star Provisions is a unique food experience, bakery, and home goods store and all wrapped up in one. It's the perfect place to grab a to-go meal that feels extra special. Their sandwich game is strong, with an ever-changing menu that's always fresh and executed to perfection. Enjoy their shrimp po boy for your next lunch, and be sure to take home some fresh bread to enjoy all week!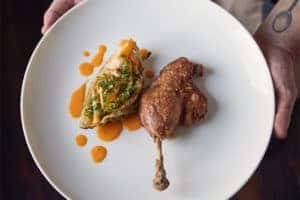 Staplehouse – Duck Confit & Cabbage | Photo: Facebook/staplehouseATL
4. Staplehouse
We love when we can dine out for a great cause, and Staplehouse is a place where you can mix giving back with delicious food. A win win! Staplehouse is a for-profit subsidiary of the local Atlanta nonproift the Giving Kitchen, meaning that a meal at Staplehouse benefits not only your hungry appetite, but food service workers all over Georgia who find themselves in crisis from a housing or health disaster. Staplehouse has a weekly rotating to-go menu at this time for you to enjoy at home, and on the menu this week is smoked beef brisket with tortilla and vegetable sides. Um–yum!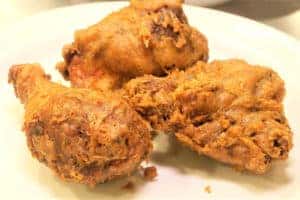 Revival – Fried Chicken | Photo: Facebook/revivaldecatur
5. Revival
Famed Atlanta chef, Chef Kevin Gillespie, created Revival as a nod to the formative years of his childhood. A meal at Revival is meant to feel like a modern take on Sunday family dinners, and it tastes even better. Enjoy their family meals packaged for two in the comfort of your home–a tomato pie and a Smoked Half Chicken with peach-mustard glaze are on the menu this week–or dine on their outside patio or beer garden. Their "Closed on Sunday Chicken Sandwich" chicken sandwich sliders are worth a trip in itself, served with spicy mayo on a perfectly soft roll.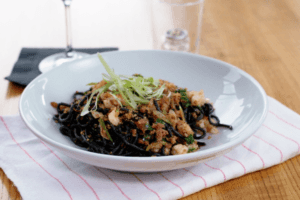 BoccaLupo – Black Spaghetti | Photo: AtlantaEats.com
6. Bocca Lupo
Inman Park Italian spot Bocca Lupo has become a staple for a date night meal–if you could get a reservation, that is! This hot spot's black spaghetti is a must-try, and their 20-yolk tagliatelle is similarly show-stopping. They're offering takeaway meals only at this time, but we promise it'll taste just as delicious from the comfort of your dining table!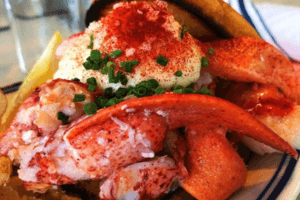 Beetlecat – Lobster Roll | Photo: AtlantaEats.com
 7. Beetlecat
Looking for the best lobster roll in town? Look no further than Chef Ford Fry's Beetlecat in Inman Park. Enjoy your roll on their patio or in their coastal dining room, or take your meal to go. Another unexpected standout on their menu that can't be missed: their donuts (available at brunch only).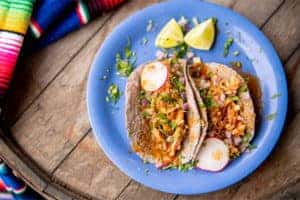 El Tesoro – Tacos | Photo: eltesoroatl.com
8. El Tesoro
When you're in the mood for a savory brunch, we're telling you that El Tesoro in Edgewood is the move. They've got flavorful Mexican dishes like huevos rancheros, chorizo con papas, and migas that will satisfy any Mexican food craving. Wash it allll down with a fresh horchata. During this time, you can order up family meals for two consisting of their savory twice cooked pork carnitas or their taco party served with churros, of course. Available for delivery and online ordering/pick-up now!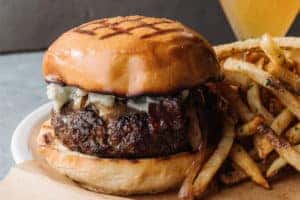 JCT Kitchen – Burger | Photo: Facebook/jctkitchen
9. JCT Kitchen
We're always dreaming about the truffle fries at JCT Kitchen. And their pork chop, and their fried chicken… yeah, there's a LOT to love about this industrial chic Chef Ford Fry spot, located in West Midtown. Their upstairs bar and patio has a great view of the train trackers and is perfect for a summer date night. Order online for curbside pickup, or they are also offering patio and dine-in options at this time.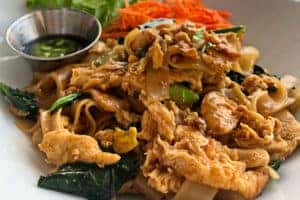 Tuk Tuk Thai Food Loft – Pad See Ew | Photo: AtlantaEats.com
10. Tuk Tuk Thai Food Loft 
Chef DeeDee Niyomkul is the talented chef behind this woman-owned and phenomenal place for Thai food in Atlanta! Try their Nuah Sawan, a Thai beef jerky served with sticky rice, to start off your meal. For an entree, you can't go wrong with their crispy fried red snapper, Pla Tod, served with a chili lime sauce and green mango salad. And if you're dining in, you've got to finish off your meal with the Bangkok Snow Cone, consisting of shaved ice, condensed milk, rose syrup, and more. Available for socially distanced dining or takeout at this time.