More Than Worth the Drive
We've partnered with Atlanta Eats to bring you amazing restaurants that are more than Worth The Drive! So hop in for a smooth ride in your Lexus to all of these foodie destinations right outside the city.  Who knew about all these delicious spots just a short road trip away.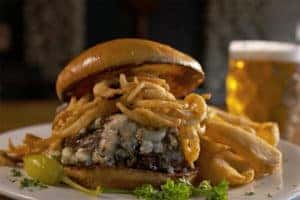 Appalachian Grill – Burger | Photo: Atlanta Eats
1. Appalachian Grill
Address: 14 E Church St, Cartersville, GA 30120
Cartersville is a totally underrated weekend destination that's just a short drive away. When you visit, make a stop at Appalachian Grill for some of that small town charm alongside incredible steak, seafood, and pasta dishes. Everything is made in house with 100% raw ingredients. Follow up a delicious meal with a hike at Red Top Mountain Park to make a day of it!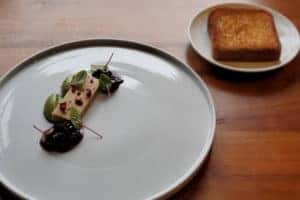 Spring – Foie Gras | Photo: Facebook/springmarietta
 2.  Spring
Address: 36 Mill St Marietta, GA 30060
All you ITPers might think that there are no great restaurants to be found in the Atlanta 'burbs need to think again! Spring is a total gem in the heart of Marietta Square that's both critically acclaimed and local approved. It's fabulous fine dining in a quaint and rustic atmosphere, where you know that everything is fresh farm to table.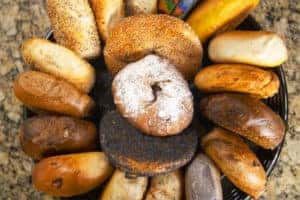 BB's Bagels – Bagel | Photo: Atlanta Eats 
3. BB's Bagels
Address: 770 McFarland Pkwy, Alpharetta, GA 30004
For the best New York style bagels in Greater Metro Atlanta, you've gotta head to BB's. Chances are it's a bit of a hike unless you're lucky enough to live in Alpharetta, but tons of folks gladly drive 30+ minutes every weekend to get their bagel fix. These bagels have got that great bagel chew on the outside and the perfect fluffy insides. Get the rainbow colored one for some fun or just your classic BEC!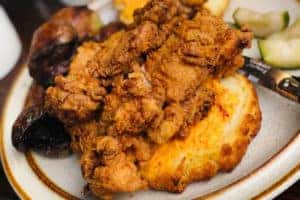 Hen Mother Cookhouse – XXL Chicken Biscuit | Photo: Yelp
4. Hen Mother Cookhouse 
Address: 11705 Jones Bridge Rd, Johns Creek, GA 30005
It's brunch at its best! For a cinnamon bun the size of your head, there's no better place than Hen Mother Cookhouse in John's Creek.  Their XXL chicken biscuit comes with a sambal glaze that's totally addicting. There also is patio seating and takeout options available. You will leave stuffed to the brim and more than happy that you made the drive!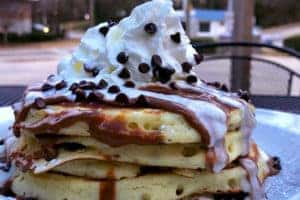 Mama's boy – S'mores Pancakes Special | Photo: Facebook/mamasboyathens
5. Mama's Boy
Address: 197 Oak St, Athens, GA 30601
It's a must when you go to Athens. Yes, there's always a crazy wait, but all will be forgiven once you take a bite of their peach french toast, their pulled pork and potato hash, or their chocolate cake for breakfast. It's a favorite amongst UGA kids and the townies alike. Get a biscuit sandwich if you're feeling extra hungry–they're huge and oh so delicious!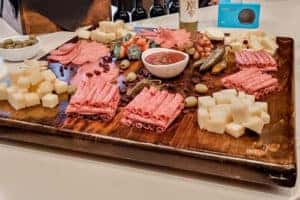 Montaluce Winery & Restaurant – Charcuterie Board | Photo: Facebook/Montaluce 
6. Montaluce Winery & Restaurant
Address: 501 Hightower Church Rd, Dahlonega, GA 30533
If fantastic food and wine in a beautiful setting sounds like your ideal day, then Montaluce Winery & Restaurant in Dahlonega needs to be your next destination. Their flatbread is amazing, and the open-air patio is divine. Walk off your meal afterwards in the vineyards and take in the gorgeous scenery. It's the perfect girl's trip or day date!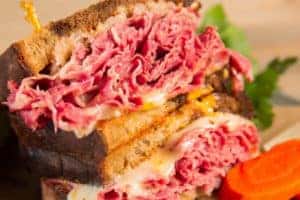 Muss & Turner's – Reuben Sandwich | Photo: Facebook/mussandturners
7. Muss & Turner's 
Their menu is full of your classic favorites, like hanger steak and pork shank, but executed at the next level. The burger is especially a menu favorite. The daily changing family meals are the best deal happening in town right now, coming in at around $40 for two and consisting of a scrumptious and ever-changing appetizer, entree, and dessert. Be sure to sneak to the back room, and grab a cocktail at the speakeasy Eleanor's, we suggest the Negroni.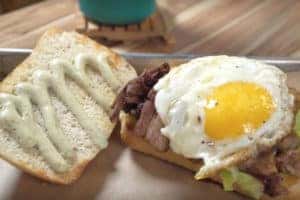 Porch Light Latin Kitchen – Triple Torta | Photo: Atlanta Eats
8. Porch Light Kitchen 
Smyrna's dining scene is heating up, and it's in large part thanks to the folks like Andre Gomez of Porch Light Latin Kitchen! Porch Light Latin Kitchen has been serving up authentically bold Puerto Rican food. Sofrito is the base of his cuisine, and Andre brings his culture and history to everything he does at Porch Light.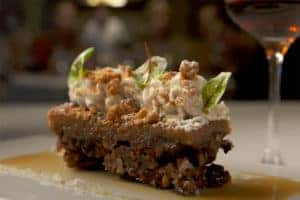 Rice House – Dessert | Photo: Atlanta Eats 
9. Rice House
For a slice of heaven, make the trip to Barnsley Resort & Gardens and enjoy the garden to table cuisine at Rice House. Located in a 19th century farmhouse, Rice House's menu is executed to perfection by Chef Nicolas Lebas.  The menu changes seasonally so you're always in for something special at Rice House.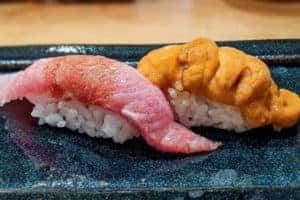 Sushi Hayakawa – Sushi | Photo: Facebook/SushiHayakawaATL
10. Sushi Hayakawa 
For arguably the best sushi in town, you'll have to head OTP to Sushi Hayakawa. Their 14-course, two-and-a-half-hour omakase is limited to just two guests per night and will cost you a pretty penny but it's a bucket list experience any foodie must try.